WARNING This CV is about to expire.
To keep it published here please re-register it for 1 more year.
STOP it from being removed Today.
Register NOW to guarantee it on here for 1 year.
Registration is normally £30 per year.
Special Offer, Register Today Only £10
Direct with Tony's Soccer School. Safe & Secure
1 Year registration includes...
GET PROMOTED TO LEAGUE 1
Regular updates on future Football Academy Trials.
Exclusive first Chance Football Trial Date opportunities
Unlimited CV Updates.
Guarantee League 1 Position of your CV.
Add a free Pictures
Link to your Facebook
Link to your Twitter
Add personal Contact info. Scouts can contact you direct
1000's of Clubs and Scouts View here everyday.
Personal email communication with our Academy Director.
Secure Paypal Checkout.
Failure to Keep your CV registered ould result in CV removal
FOOTBALL TRIAL PLAYERS LEAGUE TABLE, DIVISION 10
FOOTBALL PLAYER PROFILE CV
Benjamin
Last Name: Wazabanga-Yambaya
City: London
State/Prov: Enfield
Country: United Kingdom
Your Age: 12
Playing Position: Center,Midfield
Current Football Club: None
Past Football Clubs: Edmonton Rangers
Football Club you want a trial for: Tottenham
Tell us about your football history in 100 words: I used to play footie inn belgium because i was born there than came to England to have more chance.
Tell us about your Playing ability in 50 Words: My old coach said i was a very good player but resigned and he got me a tial for Brentford but couldnt go for personal reasons
Why should an Academy Manager give you a football trial in 50 words: Because I got a potential and if i just had a chance to i would make the bet out of my career
Add your Own Player Profile Picture >> Send Picture Here
Submit your very own Football CV and Showcase your ability >> Add CV
Contact this Player >> CONTACT
To Offer this player a Football Trial >> Offer a Trial to This Player Here
TRIAL DATES
You can gain instant access to ALL Football Clubs
Holding Open Trials please Register Here
Special Offer £10 for 1 year. (Normally £20)
Register with Tony's Soccer School Today
Join ove 10,000 Members
Trials only visible to Subscribers.
Trials are updated every minute refresh page for more...
Latest Football Trials in London
Latest Under 16 Football Trials
Latest Football Trials August 2015 News
Latest Open Trial News
Premier League Clubs Trials Application Procedure 2015/16
Latest Over 21 Football Trial News
Next Football Trials September 2015
View Latest Players to Join Tonys Soccer School
Latest Under 21 Trial News
Latest Under 17 Trial News
Latest Under 18 Trial News
Next Football Trials by League
Latest Under 15 Trial News
Latest Under 14 Trial News
Latest Under 13 Trial News
Latest Under 12 Trial News
Latest Under 11 Trial News
Latest Under 10 Trial News
Latest Under 9 Trial News
Latest Under 8 Trial News
Latest Under 7 Trial News
Latest Under 6 Trial News
Thank you,
Final Registration Step
To complete your registration and gain instant
full website access to ALL Football Trials
Please Join Now... Lifetime Membership
Special Offer Only £9.99 Join Now to Receive
50% Discount, Normally £20
Join Here
Join to Instantly Unlock 35,000 Web Pages,
packed with 100's of Football Trials.
SUBMIT ONCE ONLY, or you may be charged twice
Only Members gain access to Every Football Trial
Receive Latest Professional Trial Updates Regularly
Pro clubs & Many More Clubs
You Need to Subscribe to gain Full Website Access
Increase your chance of finding Professional trials
Join over 100,000 Players Today
Get spotted by Pro Scouts and Agents.
Join Now to get 50% Discount
Many trials only avalable, Visible Only to Subscribers
FREE CV Added to our database (optional)
NO ACCESS TO TRIALS IS GIVEN WITHOUT PAYMENT
Submit Payment once then Log in
JOIN US
To Log in please
Subscribe First...
Unlock ALL Pages NOW
Unlock 1000's of Trials.
Instantly unlocks all
these 35,000 pages.
Subscribe to Log in
Today's Special Offer £9.99
Normally £20
Many trials available, only to
Exclusive Members.
Over 10,500 Subscribers
Join Today
NO SUBSCRIPTION
NO TRIALS ACCESS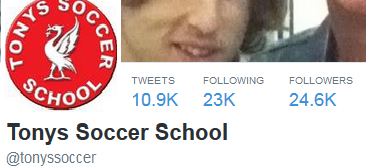 ADD PLAYER PROFILE
Today's Star Player
Robin Polley Age 16
Ex FC Twenty Striker
View His Video
Is Looking for Pro
English Club.
Want to add Your Own
Player Profile? Register Here
This Player's Valuation
Transfer Fee is
£740,000
Wages £7400
Per Week
This Valuation has been
approved by
Tony's Soccer School.
We take NO Commission.
Player receives FULL amount.