ENGLAND FOOTBALL ACADEMY TRIALS
ESSEX FOOTBALL ACADEMY TRIALS
>>
ESSEX FOOTBALL ACADEMY TRIALS A Full list, guide of Football Trials and Academy Football Trials in Essex, from all corners of the local area of Essex.
Football Trials in London, here is how you can apply for these football trials in this region and part of the country. Get a football trial opportunity by contacting the correct Football Academy Directors using our unique system of getting and how to get a football trial today.
Football Teams, Clubs in Essex are looking for Football or Soccer players either by open football trials, known as Football Trial Dates. Another possibility is to get a Trial by sending your Football Player CV to the Academy Managers. We also have trials for teams and Football Clubs that have a network of Football Scout in the region of Essex, and how to get these Scouts or Football Coaches to watch your child, or a player or yourself.
You can attend Essex Football Trials also operated by independent Football Academies, held on behalf of Professional or League Football Clubs, or local good youth and adult clubs within Essex Area. We have the complete range of available Football Trials, whatever the type of football trial you are wanting for players of all ages and abilities.
ESSEX FOOTBALL ACADEMY TRIALS
Football Teams, Clubs in Essex are looking for Football or Soccer players via Football Trials,
Next Colchester United Trial in 2017 will be....
We will be holding trials for both our Futsal and 11-a-side programmes for talented footballers interested in furthering their prospects with Southend United Academy Trials...
>> Trials for Colchester United Apply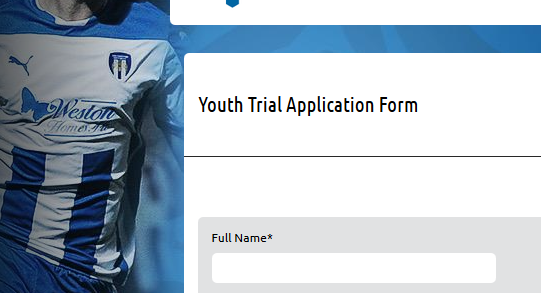 Aveley F.C. Football Trials
Basildon United F.C. Football Trials
Billericay Town F.C. Football Trials
Bowers & Pitsea F.C. Football Trials
Braintree Town F.C. Football Trials
Brentwood Town F.C. Football Trials
Brightlingsea Regent F.C. Football Trials
Burnham Ramblers F.C. Football Trials
Canvey Island F.C. Football Trials
Chelmsford City F.C. Football Trials
F.C. Clacton Football Trials
Coggeshall Town F.C. Football Trials
Colchester Town F.C. Football Trials
Colchester United F.C. Football Trials
Colchester United L.F.C. Football Trials
Concord Rangers F.C. Football Trials
East Thurrock United F.C. Football Trials
Enfield 1893 F.C. Football Trials
Enfield F.C. Football Trials
Epping Town F.C. Football Trials
Eton Manor F.C. Football Trials
Grays Athletic F.C. Football Trials
Grays United F.C. Football Trials
Great Wakering Rovers F.C. Football Trials
Halstead Town F.C. Football Trials
Harlow Town F.C. Football Trials
Harwich & Parkeston F.C. Football Trials
Heybridge Swifts F.C. Football Trials
Hullbridge Sports F.C. Football Trials
Maldon & Tiptree F.C. Football Trials
Pegasus Athletic F.C. Football Trials
Saffron Walden Town F.C. Football Trials
Southend Manor F.C. Football Trials
Southend United F.C. Football Trials
Stambridge United F.C. Football Trials
Stansted F.C. Football Trials
Stanway Rovers F.C. Football Trials
Takeley F.C. Football Trials
Thurrock F.C. Football Trials
Tilbury F.C. Football Trials
Tiptree United F.C. Football Trials
Waltham Abbey F.C. Football Trials
Witham Town F.C. Football Trials
Wivenhoe Town F.C. Football Trials
FOOTBALL TRIALS ESSEX UNDER 6
FOOTBALL TRIALS ESSEX UNDER 7
FOOTBALL TRIALS ESSEX UNDER 8
FOOTBALL TRIALS ESSEX UNDER 9
FOOTBALL TRIALS ESSEX UNDER 10
FOOTBALL TRIALS ESSEX UNDER 11
FOOTBALL TRIALS ESSEX UNDER 12
FOOTBALL TRIALS ESSEX UNDER 13
FOOTBALL TRIALS ESSEX UNDER 14
FOOTBALL TRIALS ESSEX UNDER 15
FOOTBALL TRIALS ESSEX UNDER 16
FOOTBALL TRIALS ESSEX UNDER 17
FOOTBALL TRIALS ESSEX UNDER 18
FOOTBALL TRIALS ESSEX UNDER 21
FOOTBALL TRIALS ESSEX OVER 21